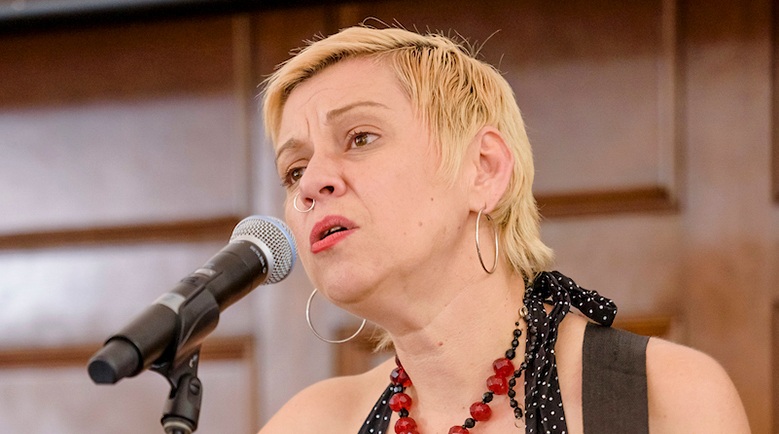 The highlight of the 70th celebrations was undoubtedly the launch of our new theme song Woven Hands, written, produced and performed by The Soldier's Wife specifically on the occasion of Australian War Widows Queensland (AWWQ) reaching its 70 year milestone. The CD of the song was also released at the same time.
The Soldier's Wife performed Woven Hands from their hearts. The song and its beautiful lyrics truly reflects the friendship, support, resilience and love that war widows share together through their common bond.
The Soldier's Wife are a small group of Queensland song writers who go on a remarkable song writing journey to tell the stories of women whose partners have served in conflict over the past 60 years. They have talked to almost 100 women, aged 25 to 104 years. From varying backgrounds and conflicts, from remote and regional areas to inner cities, their personal journey all have similar themes of love, loss, existence and resilience. The artists use their voices and their muse to hold legacy to these stories and to share them on stage – these are not just stories of incredible women – they are stories of our history and of the new generation.
These stories have now been documented into a book, giving further voice to these women and families and creating a way for the wider community to learn from these experiences.
Deb Suckling, the lead singer, has been a singer songwriter for almost twenty years. In 2006, she set up Sugarrush Music and started releasing albums from Australian artists all over the world. She has been heavily involved with community song writing projects since 2006 when she visited remote Aboriginal communities, including The Songs of Roma House (working with long term homeless) and Song of the Surat Basin (working with regional families). She started The Soldier's Wife in 2014.
The CD of the song Woven Hands is available for purchase by calling AWWQ Brisbane Office on 07 3846 7706 or 1800 061 945. If you would also like to order the book The Soldier's Wife, please email your request at sugarrush@optusnet.com.au.