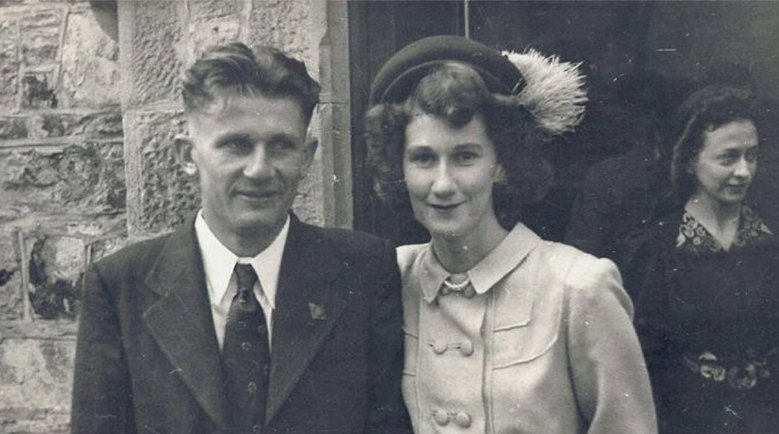 "I don't want to be a lonely old lady who sits at home all day watching television – I want to be independent."
These words were spoken by Joan after the loss of her husband of 65 years and a World War II veteran, Robert Solaga. Joan was in a state of deep grief, and the way she was able to turn her life around is a truly inspirational story.
Joan was born in Innisfail, North Queensland, as the third of four daughters. Her dad was a World War I veteran and a cane farmer and her mother, a school teacher. She went to St Aidan's Anglican Girls School in Brisbane. Later she went on to receive a Kindergarten Training College diploma and a Bachelor's degree in Educational Studies. At a time when women didn't work, she worked all the time, eventually becoming the Deputy Principal of a high school in Springwood.
Joan's husband, Robert Solaga, was born in Yugoslavia. He came to Australia with his family when he was fourteen and never looked back. He enlisted in the Army and served in New Guinea from 1944 to 1946. After the War, he got out of the Army due to family reasons and became a machinery inspector for Main Roads.
Joan met Bob on a blind date set up by their friends. "My friends made up this story that they were going on the Brisbane River on a flatboat fishing and I didn't really want to go. Apparently he didn't want to go either. The boat puttered out halfway down the Brisbane River and the tide was going out. I was just getting ready to dive off when he got the magic going. I thought he was pretty wonderful."
They got married in 1949. They both had very busy work lives and lived in many different places in Queensland – Atherton, Townsville and later Brisbane. In their retired life they liked playing bowls and often went on weekend trips with bowls people. They have three children, two daughters and a son.
When Bob passed away in 2014 after 65 years together, Joan did not want to go on – she just did not know how to. "I was very devastated because I was his carer and I can't see because I've got low vision and he could see. I had good legs and he had good eyes and so we had a wonderful life together."
Bob had a strong connection with his two granddaughters, Annabelle and Emma Simpson. Emma frequently visited him after her netball games, bringing along friends and making cupcakes for afternoon tea. After he passed away, Emma, with the help of her friends, started an afternoon tea program called Connect 2 Veterans at the local church, bringing senior high school students and the elderly together every few months. She was a finalist for the Queensland Young Achiever Community Volunteer Award for her efforts.
Upon the suggestion of a DVA nurse who visited her, Joan started going to Pilates classes at Peak Sports and Spinal Centre and training one-on-one with Mr Michael Dawson. "He helped me improve my balance and built me up. Then he made me have a goal. My first goal was to climb up the stairs at Kangaroo Point which I did. My next goal was to climb the Story Bridge which I did." When Mr Dawson asked her what her next goal would be, her granddaughters came up with the idea of participating in the World Masters Games 2017 in Auckland, New Zealand.
With the encouragement, support and confidence provided by her granddaughters, her daughter Margaret Simpson and son-in-law John Simpson, her physiotherapists, teachers Kerry and Ken McGuire and Vision Australia telelink group, Joan trained hard for six weeks and participated in three events at the World Masters Games in April 2017 – shotput, discuss and a 1,500 metre walk. She returned home with three Gold medals.
"When you get to be 90, you don't plan, you live day to day and do the best you can. The Good Lord wants you here for some reason and if you're going to be here, you might as well do the best you can with the body you've got."
Joan joined the War Widows through her close friend Maureen Morrison, whom she met at a Legacy meeting, both of them having lost their husbands the same year. Both ladies find War Widows very helpful and informative. They enjoy going to the meetings and appreciate the support provided by the War Widows' South East Social Group under the leadership of Dorothy Lester.
"Life must go on. Even when you lose your husband, your life must go on. It's very difficult but if you get through the first year, and try your hardest to be kind and loving to everybody, you'll get through it and have a happy life,"
says Joan.
"My next goal is to get Maureen to walk around the Uluru trail with me" she adds, looking at Maureen sitting next to her, and they both laugh together.